Taking action for greater impact

The LISI Group acts, as it has always done, in a responsible manner, whether in terms of respect for human and fundamental rights, business ethics, the fight against corruption and compliance respect for tax law. This conviction, shared by all is the essential starting point for being profitable and sustainable.
Suppliers charter
Evaluations and objectives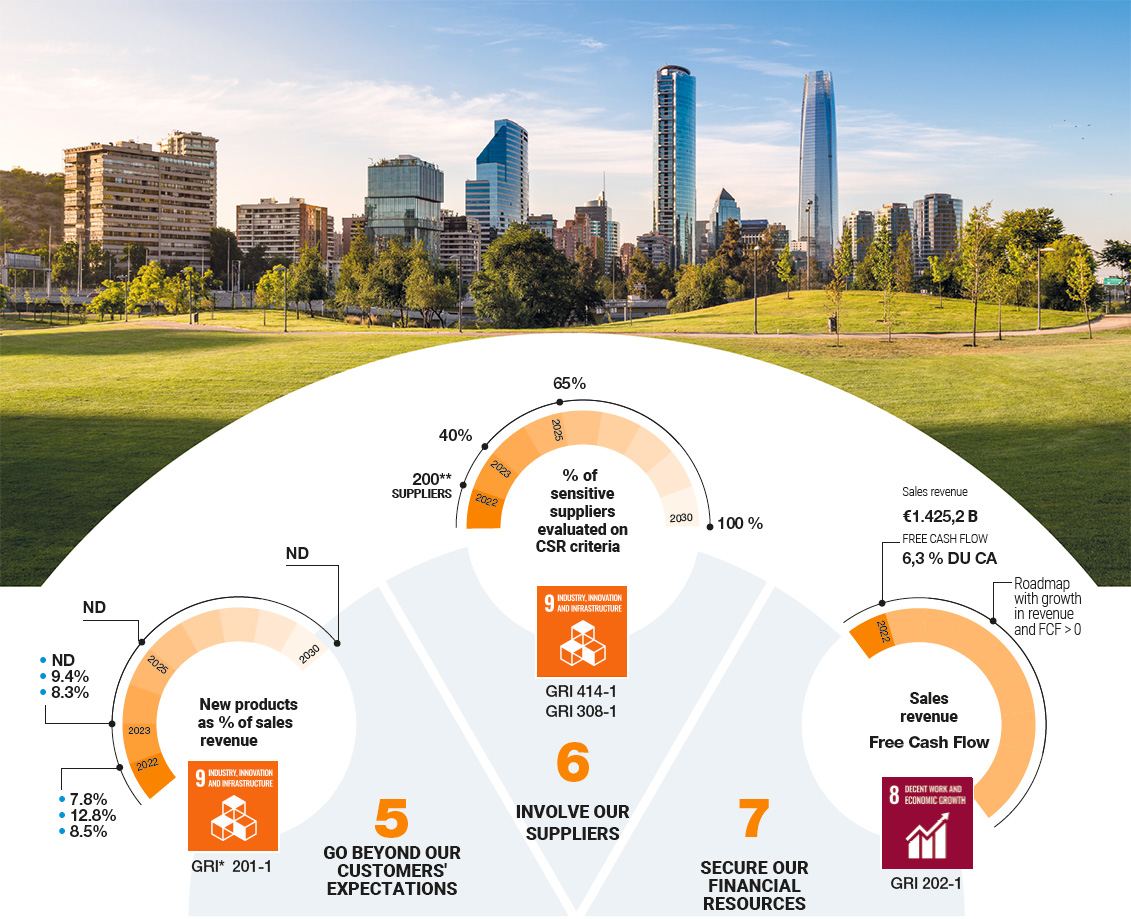 LISI AEROSPACE
LISI AUTOMOTIVE
LISI MEDICAL

* GRI = Global Reporting Initiative.
** In 2022, the Group evaluated 200 suppliers on CSR criteria. It has been decided to introduce a new indicator to be measured from 2023 onwards: the percentage of sensitive suppliers assessed on CSR criteria.
Challenges & Objectives
#5 Go beyond our customers' expectations
LISI strives to offer its clients competitive products and services that meet the highest standards standards: development of new products and driving force in eco-design.
Thanks to its committed and motivated teams, and in line with the Group's CSR - 3P - approach, we have fully integrated the monitoring and evaluation of the carbon footprint of our products.
Other recognitions, such as the quality certifications IATF-16949 (LISI AUTOMOTIVE), EN 9100 (LISI AEROSPACE), ISO-13 485 (LISI MEDICAL) testify to our determination to constantly aim to exceed our customers' expectations.
#6 Involve our suppliers
The Group's performance is based on rigorous and effective standards such as the LISI SYSTEM, quality management systems, a pragmatic and effective digital transformation approach, continuously improved cybersecurity, and responsible purchasing by taking into account the environmental and social performance of our suppliers, thus guaranteeing a sustainable and profitable business relationship for all.
To this end, we want to involve our key suppliers in reducing their carbon footprint by implementing a CSR assessment plan.
#7 Secure our financial resources
The entire Group's teams are striving to be agile to manage the short term in ways that meet the needs for all our stakeholders, while protecting and and preparing for the long term. Our objectives are clear:
Rigorous management of working capital requirements, particularly inventories.
Currency hedging for up to 3 years to secure contracts in dollars.
Differentiation of financing sources.
The roadmap foresees the respect of a positive Free Cash Flow every year.
Projects
Tisax certification for LISI AUTOMOTIVE, for information security management.
BVB contract carried out for the financial and and extra-financial evaluation of suppliers.