A substantive approach an integral part of the group strategy
Committed for many years to an active approach to sustainable development, the LISI Group wanted to further structure all of its action. In 2019, it defined 5 strategic areas in terms of social and environmental responsibility. The CSR targets will be included in its strategy from 2020, in the same way as those relating to its commercial development and operational excellence.
LISI's CSR strategy, inspired by the ISO 26000 standard, will be gradually implemented and deployed across the entire company. From the Group's parent company to the 45 industrial sites, it will aim to respond concretely to the global, as well as local, challenges of its stakeholders.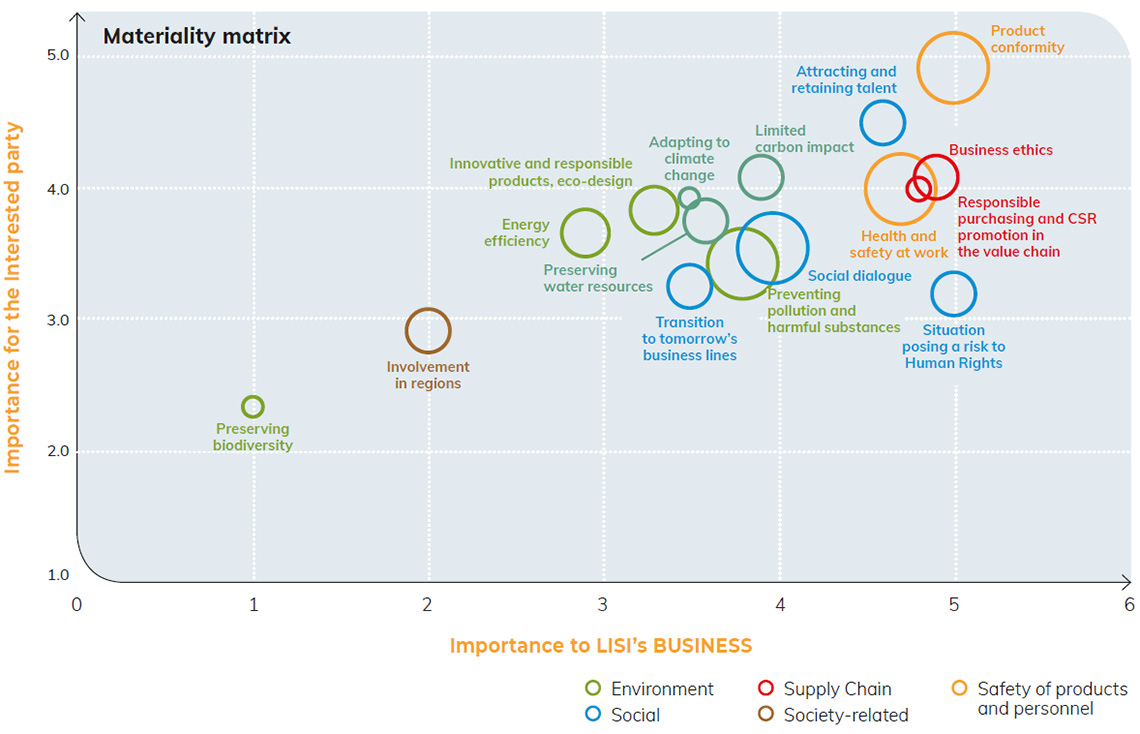 Concrete commitments
Through this strategy, LISI intends to promote collective and individual commitment towards a continuous improvement approach; create value for the company, its suppliers, its customers; promote good practices and have a positive economic, social and environmental impact; develop sustainably with its partners while respecting people and their cultures; and finally remain pragmatic by adopting adapted realistic solutions.
Define a materiality matrix
A CSR steering committee was created to analyze and prioritize the challenges of the LISI Group, taking into account the importance of these for interested parties. Such interested parties were asked to gather their expectations in terms of CSR. Their responses allowed for the establishment of a materiality matrix and 5 strategic areas, validated in June 2019 by the Management Committee and the Board of Directors of the LISI Group. These 5 areas constitute the roadmap and the targets that the company has set itself for 2020 and 2023, as well as a vision for 2030.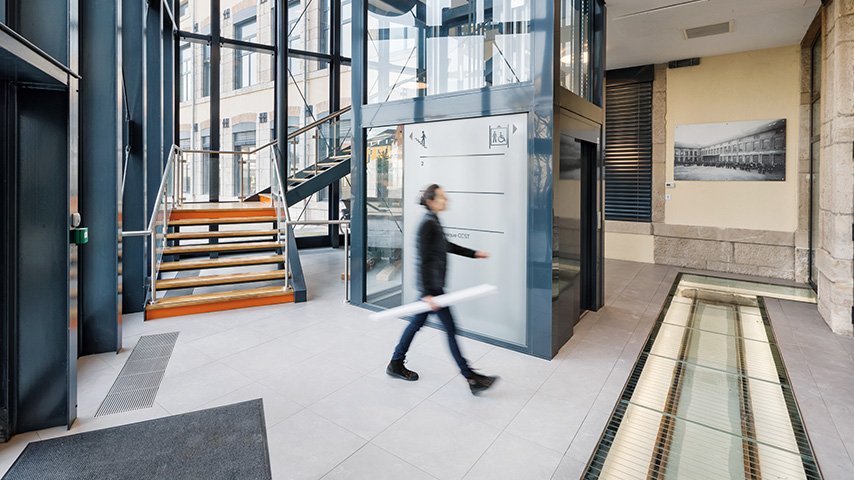 5 work areas, targets by 2030
1. Retain our talents and strengthen the attractiveness of our business lines
2020
100% of the sites have a formal partnership with a school
Increase the percentage of women in senior management
Absenteeism rate at 3.1%
100% of the Quality of Life at Work surveys are launched and 100% of the action plans are deployed
2023
Align the distribution of men and women in the governing bodies to the right proportion of the group, i.e. 22% women
Absenteeism rate at 2.9%
Visibility of LISI among the best employers in its sector
2030
Foster employee engagement: well-being at work, mobility
Develop an agile and collaborative organization: diversity, community work
Anticipate the work of tomorrow: evolution of trades and skills, continuous learning
2. Achieve excellence in occupational health and safety
2020
Frequency rate of work accidents with and without lost time (LISI employees and temporary workers) consolidated TF1 less than 8
No level 1 non-compliance in the machine park
2023
100% of staff undergo 1 safety training / year
0 site including TF1 > 10
100% of significant risks are covered by an action plan
2030
Consolidated TF1 less than 5
No "painful" positions
3. Improve the environmental footprint of our activities and products
2020
-12% energy saving vs 2018
-12% water saving vs 2018
-7% greenhouse gas emissions vs 2018
2023
-5% energy consumption vs 2020
10% renewable energy, produced on site or purchased
No dependence on water in areas of water stress
2030
-30% greenhouse gas emissions vs 2020
-10% energy saving vs 2020
20% use of renewable energy
4. Guarantee the satisfaction of our customers through the efficiency of our processes
2020
0 critical incident on parts which can cause a safety problem
0 major non-compliance with quality certifications
2023
-10% of non-critical incidents vs 2020
-10% of the cost of internal non-quality vs 2020
2030
0 customer feedback = "On Target Quality" at 100%
0 late delivery = 100% "On Time Delivery"
Traceability and digital compliance
5. Commit to a responsible supply chain
2020
Integration of CSR into the procurement transformation project
2023
LISI fully integrates the criteria of ethics and social responsibility when selecting its suppliers
LISI assessed its 100 most strategic suppliers against CSR criteria
2030
100% of the strategic suppliers from a CSR perspective are assessed
LISI works with ethical and responsible suppliers