LISI MEDICAL

Summarized overview of the activity of LISI MEDICAL
Annual sales revenue (€M)
| | 2012 | 2013 | 2014 |
| --- | --- | --- | --- |
| Sales revenue | 65 | 64 | 71 |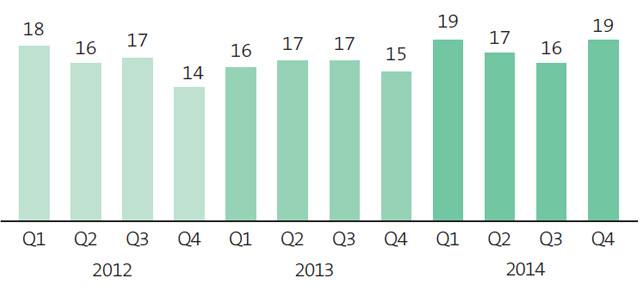 Market rather dynamic
New restocking phase at clients
Fundamental trends: search for savings, particularly through innovation, introduction of generic products, single use ancillaries, etc.
Significant progress in performance results
Tangible improvement of the quality indicators throughout the sites
Reinforced relationship with the main orthopedic client
Orders for new orthopedic products approx. €2M
Comments regarding business activity in 2014 and outlook
Sharp increase in activity at the end of the year and improved profitability
Record level of the order book
Good prospects for 2015
Market
The global market for orthopedics and implants had a rather dynamic year 2014 with a new phase of restocking. The competitive landscape in the United States, where medium-sized companies dominate, continues to consolidate. In general, the underlying trends remain unchanged: search for savings, particularly through innovation, introduction of generic products, single use ancillaries, etc.
LISI MEDICAL considers the orthopedic implant market to be still growing in the range of 3 to 4% per year, but with jolts depending on the stocking-destocking phases.
Activity
| In €M | 2014 | % Group | 2013 | Changes |
| --- | --- | --- | --- | --- |
| Sales revenue | 71.1 | 6% | 64.1 | +10.8% |
| EBIT | 3.5 | 3% | 2.5 | +38.5% |
| Operating cash flow | 3.5 | 2% | 1.6 | +123.9% |
| Net CAPEX | -4.6 | 5% | -3.1 | +48.4% |
| Operating cash flow surplus Free Cash-Flow1 | -1.0 | NA | -1.3 | -23.4% |
| Registered employees at period end | 538 | 5% | 474 | +13.5% |
| Full time equivalent head count2 | 597 | 5% | 536 | +11.4% |
1 Free Cash Flow: operating cash flow minus net industrial CAPEX and changes in working capital requirements.
2 Including temporary employees
The annual sales revenue stood at €71.1M, an increase of 10.8% due to a sharp increase in activity in the fourth quarter alone (+23.2% to €18.6M). Production amounted to €70.3M, allowing to lower inventories towards the end of the year.
Commercially, order taking in the last two months has been quite encouraging with a record book to €20.1M at end December 2014.
The operating margin has benefited from improved coverage of fixed costs (methods, engineering, innovation) and stood at 5.0% (4.0% in 2013). All other management indicators are improving. CAPEX remained high with €4.6M in commitments and €4.2M recorded (new equipment and production capacity extension). With inventories at 80 days of sales (94 days in 2013), the working capital has declined sharply. Consequently, the Free Cash Flow improved, setting itself at -€1.0M in 2014 (-€1.3M in 2013).
To cope with the surge of activity, hiring, particularly of operators and polishers, mainly on the Caen site, has been accelerated. Thus, ETPs totaled 597 people at period end, versus 536 in 2013.
OUTLOOK
LISI MEDICAL started the year with the assurance that the main site of Caen had a robust order book. The development of new products with new customers remains the main objective with the perspective of extending the plant.
The sites of Neyron (France) and Escondido (USA) remained in a reversal situation and should reach critical mass in the course of the year.
Overall, the outlook is in line with 2014, with an improvement in the volume of business and of all management indicators.
Additionally, LISI MEDICAL will take over the volume achieved by Manoir Aerospace in orthopedics (between roughly €300 and €400K on a full year basis) to improve the level of service to its customers.