LISI AEROSPACE

Summarized overview of the activity of LISI AEROSPACE
Annual sales revenue (€M)
| | 2012 | 2013 | 2014 |
| --- | --- | --- | --- |
| Sales revenue | 592 | 664 | 788 |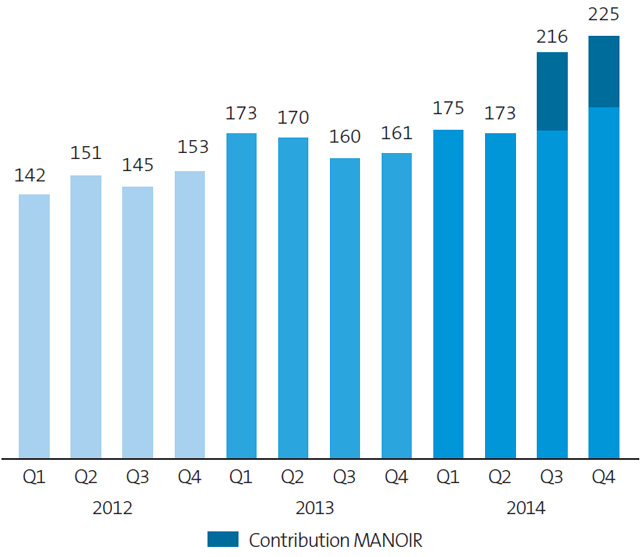 Fasteners at +4% of which +5% growth in the USA as expected
Good progression at Boeing (pace 40 for the B737, pace 10 for the B787 as of Q2 2014)
Anticipated slowdown in demand for the A350 (Fasteners), stable paces for A320 (42), etc
Motorists remain dynamic
Helicopters subject to a significant slowdown in pace (-20%)
Defense stabilized at a low level
Comments regarding business activity in 2014 and outlook
The global commercial aerospace market is still very solid
Consolidation of the Structural Components division with the integration of Manoir Aerospace
High level of capital expenditures maintained to face a large number of new projects
Market
Passenger air traffic continued to grow, displaying +4.9% growth over the year. Cargo traffic rose sharply with +4.1% compared to +1.8% in 2013.
The global market for commercial aviation is still buoyant, supported by strong demand: orders increased for the fifth consecutive year, bringing the backlog to nearly ten years of production. While Airbus remains behind Boeing in terms of the number of aircraft delivered in 2014 (629 versus 723), the European aircraft manufacturer has garnered more orders (1,456 versus 1,432) net of cancellations. Other aviation markets suffer more: the decline was sharp in the "Defense" and "Helicopters" segments. Besides, regional aircraft have not been generating any growth in years.
Activity
| In €M | 2014 | % Group | 2013 | Changes |
| --- | --- | --- | --- | --- |
| Sales revenue | 788.1 | 60% | 663.9 | +18.7% |
| EBIT | 114.1 | 87% | 118.2 | -3.5% |
| Operating cash flow | 106.2 | 75% | 107.5 | -1.2% |
| Net CAPEX | -51.3 | 57% | -52.3 | -1.9% |
| Free Cash Flow1 | 43.9 | 96% | 32.6 | +34.7% |
| Registered employees at period end | 6,957 | 65% | 5,604 | +24.1% |
| Full time equivalent head count2 | 6,800 | 63% | 5,951 | +14.3% |
1 Free Cash Flow: operating cash flow minus net industrial CAPEX and changes in working capital requirements.
2 Including temporary employees
Highlights
Mainly specializing in the forging of metal parts for aerospace applications, the Manoir Aerospace has been consolidated since June 5, 2014 into LISI AEROSPACE with the aim of strengthening the Structural Components arm with the integration of complementary technologies.
This acquisition, which represents a major step in the development of the LISI Group, contributed €94.8M (about 7 months of activity) to sales of €788.1M posted by the Aerospace division in 2014. At €256M, the Structural components activity now accounts for almost a third. The division thus posts an increase of 18.7% of its sales; adjusted for the acquisition of Manoir Aerospace and currency effects, organic growth was +4.3% for the full year (+9.0% in the fourth quarter 2014). This development is in line with the slowdown that was expected after the exceptionally high growth rate recorded since 2011.
In particular, sales by the Fasteners segment took a break in Europe (+0.5%), while the American zone is more dynamic (+5.1%).
Conversely, the Structural components have benefited from the development of new products, which allows them to display a sales increase of +5.7% over the entire year.
Current operating profit was €114.1M (€118.2M in 2013).The temporary drop in calls for fasteners on the A350 program, which does not fully offset the sustained activity of Boeing, and the industrialization costs of new structural components, as well as the integration of Manoir Aerospace, have weighed on the margin, which is down 3.3 points at 14.5% (versus 17.8% in 2013).
Inventories rose from €192.8M to €253.8M due to the consolidation of Manoir Aerospace for €55.9M. Expressed as a number of days of sales, they were stable at about 107 days. The Working Capital increased by +€9.3M, restated with the Working Capital of Manoir Aerospace. After CAPEX recorded for €53.1M, up slightly compared to 2013, the division's Free Cash Flow was overwhelmingly positive: at €43.9M, or 5.6% of sales, it increased by more than €10M from the previous year.
CAPEX remained high: they account for about €55.6M recorded, of which 60% spent on the Fasteners Europe activity (new plant in Villefranche-de-Rouergue), while Structural components have sustained significant expenditures on new products (forming and machining equipment).
The workforce stood at 6,800 FTEs (versus 5,951 in 2013), including 1,341 average FTEs in December for Manoir Aerospace. On a constant basis, the increase by a hundred FTEs was mainly due to the Structural components activity.
OUTLOOK
The division as a whole will benefit from a market environment that will remain strong, yet will be very demanding in terms of industrialization pace and ramp-up of new products.
Regarding fasteners sales, this year LISI AEROSPACE will have to renew the contract with its main customer Airbus for the period 2015-2020 and, in the United States, will need to be successful in developing distribution. On the industrial side, the transfer of the iconic Villefranche-de-Rouergue plant, of the Monadnock site (City of Industry) and the extension of the Saint-Ouen-l'Aumône plant, will mark a new milestone in the quest for industrial excellence. Located in countries with lower production costs, the sites of Izmir, Tangiers and Bangalore are expected to ramp up.
The dedicated Structural components arm is where the most significant industrial challenges are to be expected, particularly with the planned speedup of two major programs for LISI AEROSPACE: the CFM Leap engine and the best-selling Airbus A350. Both projects concern both the plants at Marmande (Creuzet) than those at Bologna and Parthenay (Manoir Aerospace). These developments will continue to weigh on the segment's profitability in 2015 before improving gradually. In the medium term, the division is engaged in a heavy industrial modernization program for all Manoir Aerospace sites.