Stock market data
Another year of strong growth
for the LISI's share over 2017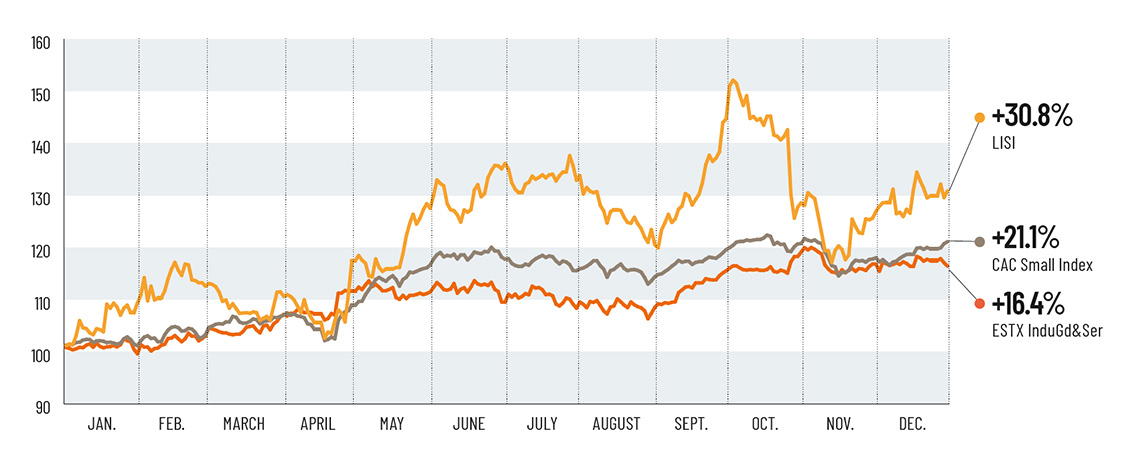 The LISI share continues its history of growth with a further increase of more than 30% in one year. This good performance reflects good earnings in line with expectations. This growth compares favorably with major indices such as CAC SMALL (+21.1%) and ESTX InduGd&Ser (+16.4%).
The end-of-year price (EUR 40.10) is close to the price range for the year between the highest at EUR 47.60 on October 4th and the lowest at EUR 30.70 on January 2nd.
In terms of volume, 7,418,339 shares were traded, a sharp increase compared to 2016 and 2015, and an improvement in capital exchanged (+234%) due to share price developments. In total over the year, 43% of the float was traded.
2018 events
The AGM will be held on April 24, 2018 on company premises: Immeuble Central Seine – 46 – 50 Quai de la Rapée 75012 PARIS.
Dividend payments will be made on May 4, 2018.
Sales revenue for the second quarter of 2018, as well as half-yearly accounts will be available on line via the company website (www.lisi-group.com), on July 25, 2018.
Financial information for the third quarter of 2018 will be available on line via the Group website on October 24, 2018 after close of market.
Securities accessible to individual shareholders
In 2017, the group continued to develop communication with individual shareholders, including the organization of shareholder meetings in Lyon and Strasbourg in partnership with F2IC and CLIFF, as well as the company's participation in the Actionaria tradeshow in Paris.
The aim of the group for 2018 is to continue to develop communication with individual shareholders in a similar way.
It should be noted that this policy addressed to individual shareholders, which also includes specific quarterly letters, an "Invest in LISI" document and an animated film, increased their number to more than 3,600 during the last TPI analysis carried out for the first time for the company in May 2017.
Stock Identification Sheet
ISIN Code: FR 0000050353
Reuters Code: GFII.PA
Bloomberg Code: FII.FP
Compartment: A Eurolist
Stock marketplace: Euronext Paris
Number of shares: 54,023,875
Market capitalization as at December 31, 2017: €2,166 m
Indices: CAC® AERO&DEF., CAC®-All Shares, CAC® Indutrials
Breakdown of capital
* Including direct and indirect holdings:
VMC: 20.94%
FFP Invest: 18.94%
CIKO: 16.64%
** Reserved for performance share plans